Higher Education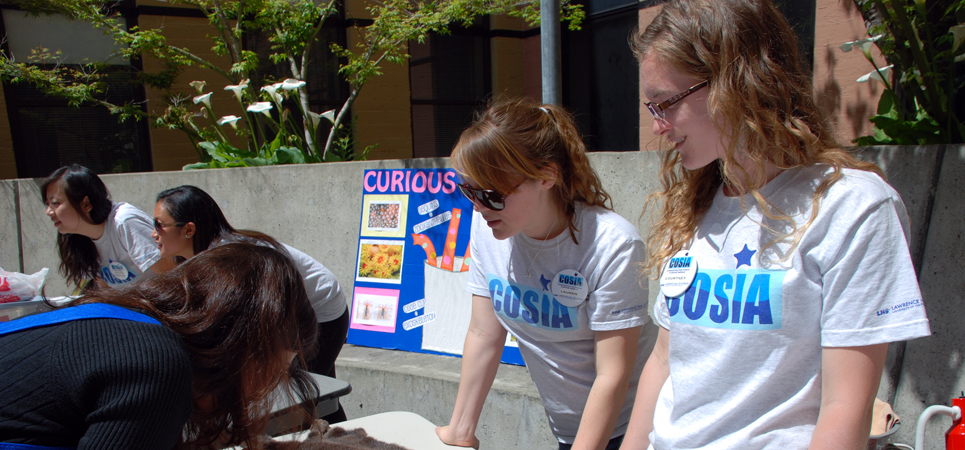 MARE has a number of programs and projects designed to help scientists and STEM (science, technology, engineering, mathematics) faculty share their knowledge and skills with their college students, the public, and K-12 classrooms, to provide mechanisms to address education and public outreach needs, and to share the broader impact of their research. Some opportunities include:
Use our Higher Education courses to engage undergraduate and graduate students in education/outreach
get help with your Broader Impact statements for your proposals
learn about Ocean Literacy and include the Essential Principles and Fundamental Concepts of Ocean Sciences in your courses and outreach efforts
become a Faculty Fellow through participation in the Transforming STEM Teaching Faculty Learning Program
Higher Education Courses
Prepare future scientists (undergraduate, graduate students, and teacher candidates) to communicate their science knowledge more effectively to the public, and other diverse audiences.
NSF's emphasis on educational outreach and the broader impact of research led to the development of Communicating Ocean Sciences to Informal Audiences(COSIA) and Communicating Climate Science. The target students for the courses are science majors interested in learning how to communicate science more effectively to the public and other diverse audiences. The courses are designed to be taught by science faculty bringing ocean &/or climate expertise paired with a formal or informal educator who brings educational expertise.
Advancing Climate Literacy for Pre-service Teachers is designed to be taught by science education faculty to prepare secondary science teachers in pre-service programs with knowledge of the science of climate change, data science, NGSS, and effective teaching and learning pedagogy.
Broader Impact
Use the National Alliance for Broader Impacts (NABI) to learn about ways to engage in education and public outreach activities, improve your Broader Impact statement, find partners, and help you communicate more effectively with the public.
Contact us if you would like help designing a Broader Impact statement for inclusion in a proposal. Some options include:
develop activities/curriculum focused on your area of research;
participate in the ocean literacy campaign; and/or
involve informal institutions and schools in your outreach efforts.
Transforming STEM Teaching Faculty Learning Program
A professional learning program for STEM faculty to redefine the college lecture
Goal & Objectives
The Transforming STEM Teaching Faculty Learning Program (FLP) is a professional learning program for all university and college instructors of STEM courses. It is designed to improve STEM faculty's instructional practice and to be sustainably adopted by institutions as faculty developers and STEM faculty interested in becoming more involved in faculty development, become FLP facilitators and lead the program at their own institution for their own STEM faculty.
This blended program (in-person and online) nurtures an interdisciplinary learning community, provides continuous support, and is situated within faculty's everyday work. As faculty redefine their role in the undergraduate lecture, students' learning gains and experiences in these courses are affected positively.
The goal of the FLP is to improve student achievement in STEM undergraduate courses. The program has the following objectives:
Deepen faculty's understanding of how people learn
Change teaching behavior to support student learning
Nurture a tradition of continued learning about teaching
Build a faculty learning community
The FLP was written and developed for dissemination by Lynn Tran and Catherine Halversen at U.C. Berkeley through funding from the National Science Foundation (DUE #1626624).
For more information and to participate in a FLP professional learning event, visit UC Berkeley's Center for Teaching and Learning website.