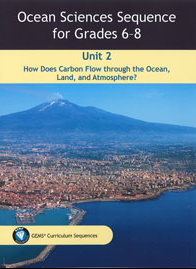 Unit 2: How Does Carbon Flow Through the Ocean, Land, and Atmosphere?
Session Resources include videos, animations, and simulations that are intended to be used with the curriculum. HTML5 versions of the animations were made possible through funding from the National Marine Sanctuary Foundation, award #16-06-B-00071 Providing More Experience resources are described in the right hand pages of the curriculum and offer excellent supplemental information to support your students' learning.
Session Resources
Session 2.1: Finding Out About Carbon
Session 2.2: Tracking Carbon through Respiration
Session 2.3: Tracking Carbon through Photosynthesis, Part 1
Session 2.4: Tracking Carbon through Photosynthesis, Part 2
Animation: Carbon Tracker
Session 2.5: Investigating Carbon in the Ocean
Session 2.6: Detecting Decaying and Buried Bodies
Session 2.7: Investigating Combustion and the Carbon Cycle
Session 2.8: Crunching the Numbers for the Carbon Cycle
Session 2.9: Connecting Carbon Flow Changes and the Ocean
Ocean Acidification outreach activity (PDF, 16.3MB). Learners investigate what ocean acidification is, what causes it, and how it affects marine organisms, through a series of hands-on activities, discussions, and short exploration of text.This activity is designed for the general public, and is best accessed by learners in middle school or older. It is best done with small groups.
Resources marked with a "**" are found on the site PBS LearningMedia, which provides educators with strategies, tools, and professional development resources needed to fully utilize digital learning. These are resources that may be freely accessed through their site, although the site requires that you log in after accessing the site a few times. Logging into the site is free, and allows you to search for a wide variety of educational media.
Videos from the NPR site will need to be accessed through their site. Instructions for locating these videos are listed next to their titles below.
All other resources, which are listed in the curriculum's Introduction Book, are also listed at the bottom of this page. We have found these books, DVDs, and websites to be beneficial for additional information on the topics covered in the curriculum.
Resources listed in the Introduction Book
Books for Students
The Way Life Works: The Science Lover's Illustrated Guide to How Life Grows, Develops, Reproduces, and Gets Along

Author: Mahlon Hoagland and Bert Dodson
Publisher: Three Rivers Press (November 17, 1998)
Grade Level: 5–10
This incredibly visual book explores several life processes including respiration, photosynthesis and fermentation with clever metaphors and comprehensive explanations.

Earth (DK Eyewitness Books)

Author: Susanna van Rose
Publisher: DK CHILDREN (April 11, 2005)
Grade Level: 3 and up
In Eyewitness style, this book looks at our planet Earth. It covers topics such as the history of Earth's atmosphere and oceans, modern oceanography and the formation of Earth's geographical features.

Understanding Photosynthesis with Max Axiom, Super Scientist (Graphic Science series)

Author: Liam O'Donnell
Publisher: Capstone Press; 1st edition (January 1, 2007)
Grade Level: 4 and up
Winner of the 2008 Teachers Choice Award for Childrens Books – Learning Magazine, September 2007

Carbon-Oxygen and Nitrogen Cycles: Respiration, Photosynthesis, and Decomposition

Author: Rebecca Harman
Publisher: Heinemann-Raintree (October 31, 2005)
Grade Level: 3 and up
---
Books for Educators
Our Changing Planet: An Introduction to Earth Science and Global Environmental Change

Author: Mackenzie, F.T.
Publisher: Prentice Hall (2003)
---
DVDs
NOVA: Origins

Producer: NOVA
How did the universe become a place that could harbor life? New clues from the frontiers of science are presented by astrophysicist Dr. Neil deGrasse Tyson. With creative graphics, watch how early Earth formed, the creation of the moon, our atmosphere and first life. To purchase or stream, search the Nova site for Origins: How Life Began.
---
Websites for Students
---
Websites for Educators