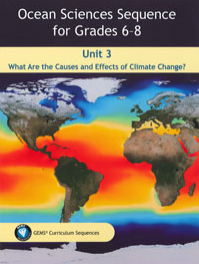 Unit 3: What Are the Causes and Effects of Climate Change?
Session Resources include videos, animations, simulations, and websites that are intended to be used with the curriculum. HTML5 versions of the animations were made possible through funding from the National Marine Sanctuary Foundation, award #16-06-B-00071 Providing More Experience resources are described in the right hand pages of the curriculum and offer excellent supplemental information to support your students' learning.
Session Resources
Session 3.1: Introducing Earth's History
Session 3.2: Tracking Earth's CO2 through Time
Recommended video: All About Carbon (Search online for NPR carbon video, Episode 1, at NPR.org)
Recommended Animation: Carbon Tracker
Session 3.3: What Does CO2 Have to Do with Temperature?
This PHET simulation has been updated after the curriculum was published. Here are the revised instructions for Unit 3 Teachers Guide P.282 – P.288.
Greenhouse in a Bottle Activity: Through the use of a physical model and a computer simulation, learners explore the effects of atmospheric heat-trapping gases on Earth's climate.
Session 3.4: Weather vs. Climate
Websites: Climate Zone OR any other website with your local 30-year climate data
Session 3.5: Investigating Climate Change: Evidence Stations
Recommended Animation: Global Science Investigator
Sea Level Rise Activity: Through the use of physical models and map exploration, learners explore the causes and effects of sea level rise, globally and locally. They also learn about some ways they might lessen human impact on future sea level rise.
Session 3.6: Demonstrating Cause and Effect
Session 3.7: Investigating Climate Change: Ocean Currents
Session 3.8: Connecting Climate and Ocean Currents
Session 3.9: Investigating Climate Change: Organisms
Providing More Experience video**: Global Warming Threatens Caribou
Session 3.10: Solutions to Climate Change, Part 1
Session 3.11: Solutions to Climate Change, Part 2
Session 3.12: Thinking Critically about Climate Change
Resources marked with a "**" are found on the site PBS LearningMedia, which provides educators with strategies, tools, and professional development resources needed to fully utilize digital learning. These are resources that may be freely accessed through their site, although the site requires that you log in after accessing the site a few times. Logging into the site is free, and allows you to search for a wide variety of educational media.
All other resources, which are listed in the curriculum's Introduction Book, are also listed at the bottom of this page. We have found these books, DVDs, and websites to be beneficial for additional information on the topics covered in the curriculum.
Resources listed in the Introduction Book
Books for Students
Acting for Nature: What Young People Around the World Are Doing to Protect the Environment

Author: Sneed B. Collard, Action for Nature (corporate author)
Publisher: Heyday Books (2000)
Grade Level: 3
Biographies of ordinary kids making extraordinary efforts to start projects that will save the environment.

How We Know What We Know About Our Changing Climate: Scientists and Kids Explore Global Warming

Author: Lynne Cherry and Gary Braasch
Grade Level: 5 and up
Publisher: Dawn Publications
Lynne Cherry (author of The Great Kapok Tree) and Gary Braasch take a kid-friendly, evidence-based, and pro-active approach to helping kids understand causes, effects, and solutions to climate change. This book has won over 15 awards and is connected to the website, Young Voices on Climate Change.

The Down-to-Earth Guide to Global Warming

Author: Laurie David and Cabria Gordon
Grade Level: 4 and up
Publisher: Scholastic
The producer of An Inconvenient Truth provides a kid-friendly, engaging, and empowering book that kids can share with their families.

Climate Change (Groundwork Guides)

Author: Shelley Tanaka
Publisher: Groundwood Books; Revised Edition edition (February 21, 2012)
Grade Level: 8 and up
Climate Change – A Groundwork Guide, not only addresses the science behind climate change and future projections, but also discusses why the political and philosophical issue is so emotionally charged.

You Can Prevent Global Warming (and Save Money!): 51 Easy Ways

Author: Jeffrey Langholz and Kelly Turner
Publisher: Andrews McMeel Publishing; Original edition (March 1, 2008)
Grade Level: 6 and up
This book provides a list of simple, everyday things people can do to lessen climate change and save money at the same time.

Climate Change (DK Eyewitness Books)

Author: DK Publishing and John Woodward
Publisher: DK CHILDREN (June 30, 2008)
Grade Level: 3 and up
A DK Eyewitness picture-filled approach to the causes and effects of climate change as well as some solutions.

A Hot Planet Needs Cook Kids: Understanding Climate Change and What You Can Do About It

Author: Julie Hall
Publisher: Green Goat Books
Grade Level: 4 and up
---
Books for Educators
Climate Change: Picturing the Science

Author: Gavin Schmidt, Joshua Wolfe and Jeffrey D. Sachs
Publisher: W.W. Norton & Company; Original edition (April 6, 2009)
Beautiful photographs and scientific analysis work together to illustrate the global effects of climate change

Field Notes from a Catastrophe: Man, Nature, and Climate Change

Author: Elizabeth Kolbert
Publisher: Bloomsbury USA; 1st edition (December 26, 2006)
Kolbert has built on her award-winning, three part series in the New Yorker to share the science behind climate change as well as what humans can do to protect our planet.

Dire Predictions: Understanding Global Warming – The Illustrated Guide to the Findings of the IPCC

Authors: Michael E. Mann and Lee R. Kump
Publisher: DK Publishing; Edition (July 21, 2008)
Through a combination of stunning images, well-explained graphics, and clearly written text, this book does an outstanding job of helping the lay reader to understand the science behind climate change.

Why We Disagree About Climate Change: Understanding Controversy, Inaction and Opportunity

Author: Mike Hulme
Publisher: Cambridge University Press (May 25, 2009)
Hulme bases his analysis of the topics addressed in this book on both his work as a climate change scientist and as a public commentator.

The Climate Crisis: An Introductory Guide to Climate Change

Authors: David Archer and Stefan Rahmstorf
Publisher: Cambridge University Press; Original edition (January 29, 2010)
---
DVDs
An Inconvenient Truth (2006)

Director Davis Guggenheim eloquently weaves the science of global warming with Al Gore's personal history and lifelong commitment to reversing the effects of global climate change in the most talked-about documentary at Sundance.
---
Streaming Videos
Eco Company

Select the video tab to find short (about 5-minute) stories on e-waste, landfills, and food waster composting.

Climate Change and the Global Ocean (NASA)

A 5-minute movie that explains the work of different ocean scientists as they measure climate change.

Earth Focus, Episode 18: Climate Change (Select the Math & Science tab and search for Earth Focus Episode 18: Climate Change)

Showcases organization and citizens responding to climate change. It reports on environmental consequences of climate change both happening now and potentially in the future.

At the Core of Climate Change

How do we know that the climate is changing? In this video (19 minutes, 29 seconds), scientist Kendrick Taylor learns how 8-foot long ice core samples extracted from deep in the ice layer of Antarctica hold key evidence of rapidly changing climactic conditions.

Climate Watch: California at the Tipping Point

The world's climate is changing and California is now being affected in both dramatic and subtle ways. Get an in-depth look at the science behind climate change as we explore the environmental changes taking place throughout the state.

E-Waste (Select the Math & Science tab and search for e-waste)

An animated film illustrates the environmental and human damage caused by electronic waste while offering solutions to this global problem.

Feeling the Heat with Jeff Corwin Film Series (select the Math & Science tab and search for Feeling the Heat with jeff Corwin)

Jeff Corwin shares his love of habitats, their organisms, and the devastating effects that are predicted because of climate change. Videos include individual topics of coral reefs, lynx, monarch butterflies, polar bears, sea turtles, and more.
---
Websites for Students
Young Voices on Climate Change

This website has streaming inspirational movies of student-driven change that students can view. Author and illustrator Lynne Cherry, originator, producer and director of the Young Voices for the Planet films, is well-known for her popular children's books, especially her rain forest classic, The Great Kapok Tree and her environmental history A River Ran Wild. Resources are also available for teachers.

A Student's Guide to Global Climate Change

There are many things you can do to help reduce climate change and its effects on people and the environment. Use this calculator to learn about some simple steps you can take to reduce your impact on the planet.

Bill Nye 's Climate Lab

Bill Nye 's Climate Laboratory is an educational website for elementary and middle school teachers, students, and families. Join Nye on fun missions and activities to reduce energy consumption and thwart climate change. You'll hunt down energy vampires, design a "green" home, grow a virtual garden—and compete to become a "Climate Champion."

Green

National Geographic has collected dozens of short articles and video clips on environmentally-friendly ideas and actions anyone can take.
---
Websites for Educators